It's incredibly cold and wet outside, the wind is howling and I've turned the central heating up to 23 degrees. But despite the cold and steamed up windows, something that has cheered me up is Kate Spade, or rather, her slightly more casual sibling.
Whilst I've known about Kate Spade NY (in particular her range of handbags), I had no idea that she had a sister store… until now. Kate Spade Saturday stocks a range of well priced clothing, jewellery and accessories, along with homeware and stationery. The stores theme is all about bringing carefree weekend fun into the everyday.
You can find cushions and tableware in cool graphic prints and neons, and unusual shaped objects of desire–like the stacked candlestick (pictured), and  dresses…Oh my, if only they shipped to New Zealand!!! On offer are various versions of the classic shift, (with a flattering length sleeve for those who prefer not to show off their arms). I'm quite enamoured with the 'Buckle Over Dress in Aurora' (below). I love the painterly print, angular drop cut of the skirt, and the length would have been perfect for my petite frame. Plus, it's a great dress for transitioning into summer, as I'm always on the look-out for dresses that feel summery but are still smart enough to wear to work.  In saying that, I'd totally rock this one in winter with stockings, ankle boots and an A-line Coat! Sigh.
What's more, the label also has a service where you can get customized versions of their 'Weekender Bag' for around US$200. which allows you to pick out your own colour combinations. Double Sigh.I think someone needs a shopping holiday!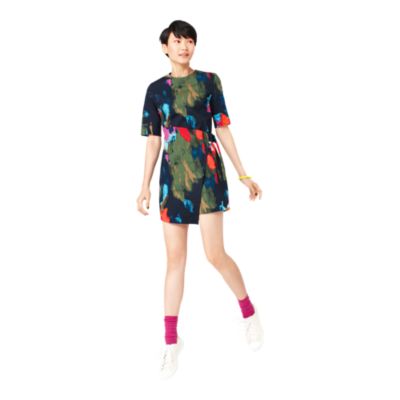 Above: Utility Bag in Sunset Stripe and Behind the Seams Romper.

Weekender Bag (below): imagine this in your personalized selected colour combo (think: orange with a contrasting stripey pocket, block colours etc).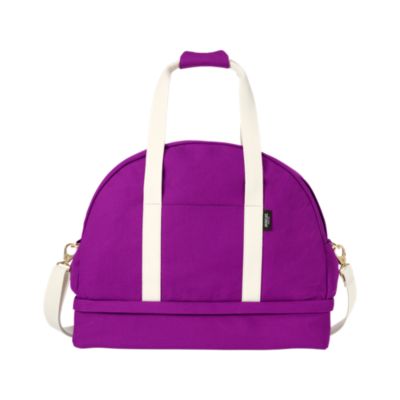 Stationary Set in One Two Tree, and Stacked Candlestick (below)
From left to right: Saturday Morning Mug, Agate Coasters, Zip-Back Shift Dress in Bright Magenta, Half Circle Utility Bag in Shifting Shapes.